Carbon Steel Buttweld Fittings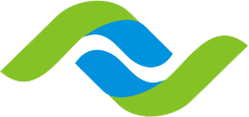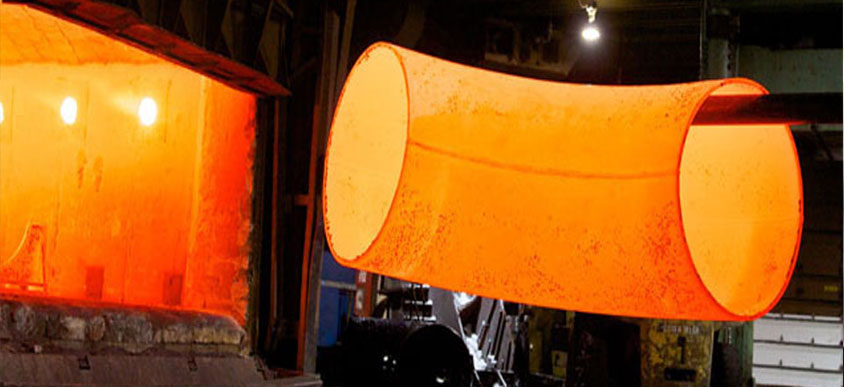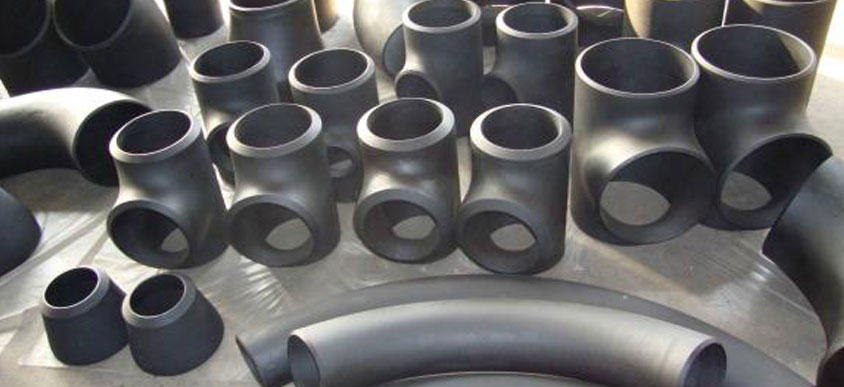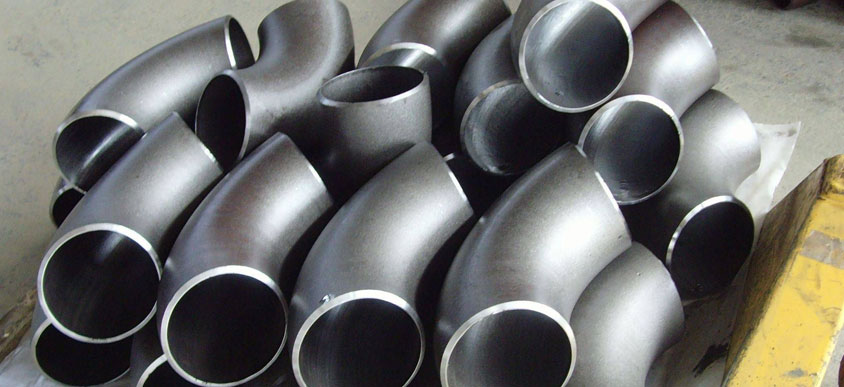 PED Approved Butt Weld Fitting Manufacturer, World Class Quality ASME A234 Carbon Steel Buttweld Fittings manufacturer, Carbon Steel Butt Weld Pipe Fitting Stockist, Carbon Steel Buttweld Pipe Fittings, Carbon Steel Weld Fittings, Carbon Steel Pipe Fittings, Carbon Steel Buttweld Fittings Supplier
Carbon Steel Equal Tee Stockist, Carbon Steel Reducing Tee Fittings, Carbon Steel Equal Cross Buttweld Fittings, Carbon Steel Pipe Cap, Carbon Steel Stub End Fittings, 180 Deg Long Radius Elbow SS Fittings, 90 Deg Short Elbow Pipe Fittings, Carbon Steel 45 Degree Elbow Buttweld Fitting Manufacturer
Nufit Piping Solutions is offering and supplying high-quality Carbon Steel Buttweld Fittings from the last two decades to several industries all across the globe. These pipe fittings are available in a variety of shapes, sizes, specifications, material-grades, and dimensions. As a leading manufacturer and supplier, we produced these fittings using high-quality raw materials and innovative technologies.
Carbon Steel Buttweld Fitting is steel having 2.1% carbon by weight. As it has a higher carbon percentage, it offers excellent weldability and formability compared to the stainless steel 300 series. Our Carbon Steel Equal Tee Pipe Fittings are used to supply fluid from one direction to another with the same diameters. The offered Carbon Steel Cross Pipe Fitting has the ability to become stronger and harder through heat treatment due to the higher carbon percentage.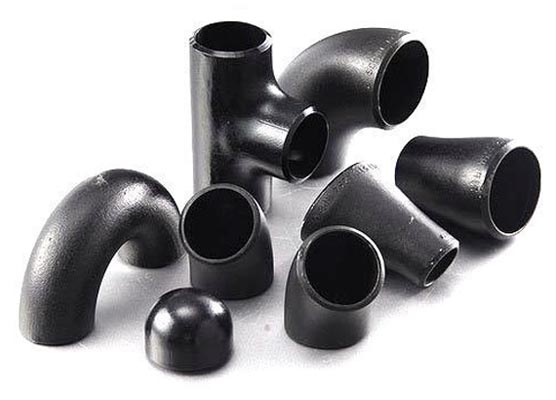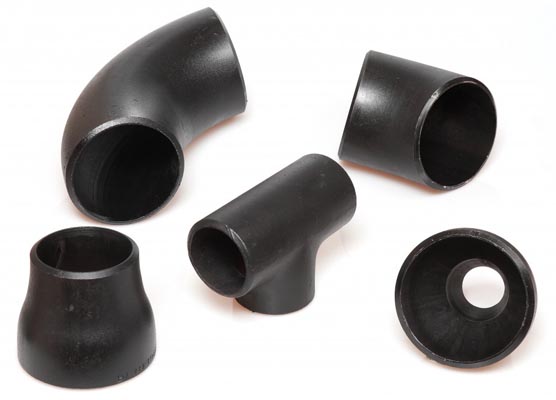 Sometimes, the term Carbon Steel Buttweld Seamless Pipe Fittings may also use to steel which is not stainless steel, it is an alloy steel. Our Carbon Steel A106 Grade2 Buttweld Pipe Fittings are more popular among our existing customers which are always in demand. We have the largest inventory of Carbon Steel Buttweld Pipe Fittings in various types like couplings, caps, elbows, reducer, unions, tee, etc.  Carbon Steel Pipe Cap Fitting is widely used to stop fluid flow during maintenance at a high elevated temperature environment.
We supply Carbon Steel Buttweld Pipe fittings in standard as well as customized dimensions as per the client's requirements. If you are looking for the latest price or want to buy these fittings then Contact Us today to get a FREE estimation. We have a dedicated logistics team, who delivers these fitting at your location in an expected time period.
Stockist of Carbon Steel A234 Gr. WPB Buttweld Pipe Fittings, Carbon Steel A420 WPL6 Tee, Carbon Steel Grade WPL6 Pipe Elbow, Carbon Steel WPL6 Seamless Pipe Fittings, Carbon Steel A106 Grade B Buttweld Fittings Exporter
Carbon Steel Buttweld Fittings Specification
---
| | |
| --- | --- |
| Standards | ASTM A234 / A420 / A860 |
| Grades | Gr. WPB, Gr. WPL-3, WPL-6, IS 1239, IS 3589, WPHY42, WPHY46, WPHY52, WPHY60, WPHY65, WPHY70 |
| Size | 6 NB to 2400 NB |
| Schedules | 5s, 10s, 40s, 80s, 10, 20, 40, STD, 60, 80, XS, 100, 120, 140, 160, XXS with NACE Certifications |
| Types | Seamless, Welded & Fabricated |
| Form | Seamless/Welded – Elbow, Tee, Cross, Reducer, Cap, Stubend, Barrel Nipple. |
Types of Carbon Steel Buttweld Fittings
---
| | |
| --- | --- |
| Carbon Steel Elbow | CS 45 Deg Elbow |
| CS 90 Deg Elbow | Carbon Steel Tee |
| Carbon Steel Reducing Tee | CS Equal Tee |
| CS Equal Cross | Carbon Steel Reducing Cross |
| Carbon Steel Reducer | CS End Cap |
| CS Nipple | Carbon Steel Union |
| Carbon Steel Plug | CS Buttweld Fittings |
For any enquiries related to CS Buttweld Fittings, kindly contact us on:-
---
+91 – 22 -6617 2569 / 2242 3168      sales@nufitpiping.com
Export Destination of Carbon Steel Buttweld Fittings
---
Nufit Piping Solutions India have exported Buttweld Fittings to over 60 countries including Afghanistan, Albania, Andorra, Angloa, Austria, Australia, Bahrain, Bangladesh, Bhutan, Brazil, Brunei, Belarus, Belgium, Bulgaria, Cambodia, China, Cyprus, Croatia, Czech Republic, Canada, Denmark, Estonia, Egypt, Finland, France, Germany, Greece, Georgia, Hungary, Iceland, Ireland, Italy, Indonesia, Iran, Iraq, Israel, Japan, Jordan, Kazakhstan, Kuwait, Kyrgyzstan, Lebanon, Latvia, Latin America, Liechtenstein, Lithuania, Luxembourg, Malta, Madagascar, Mexico, Moldova, Monaco, Malaysia, Maldives, Mongolia, Myanmar (Burma), Nepal, New Zealand, North Korea, Netherlands, Norway, Nigeria, Oman, Poland, Portugal, Pakistan, Palestine, Philippines, Qatar, Russia, Romania, Russia, San Marino, Serbia and Montenegro, Slovakia, Slovenia, Spain, Sweden, Switzerland, Saudi Arabia, Singapore, South Korea, South Africa, Sri Lanka, Sudan, Syria, Taiwan, Tanzania, Tajikistan, Thailand, Turkey, Turkmenistan, Ukraine, United Kingdom, United Arab Emirates (UAE), Uzbekistan, Venezuela, Vietnam, Yemen, etc.
Supplying CS Buttweld Fittings to Following Domestic Cities
---
Mumbai, Delhi, Kolkata, Chennai, Bengaluru, Hyderabad, Ahmadabad, Pune, Surat, Jaipur, Kanpur, Lucknow, Nagpur, Ghaziabad, Indore, Coimbatore, Kochi, Patna, Kozhikode, Bhopal, Thrissur, Vadodara, Agra, Malappuram, Thiruvananthapuram, Kannur, Ludhiana, Nashik, Vijayawada, Madurai, Varanasi, Meerut, Faridabad, Rajkot, Jamshedpur, Srinagar, Jabalpur, Asansol, Vasai Virar City, Allahabad, Dhanbad, Aurangabad, Amritsar, Jodhpur, Ranchi, Raipur, Kollam, Gwalior, Durg-Bhilainagar, Chandigarh, Tiruchirappalli, Kota, etc.
Industries where we supply Carbon Steel Buttweld Fittings
---
Chemicals, Petrochemicals, Oil & Natural Gas Organization, Fats, Fertilizers, Sugar Mills & Distilleries, Cement Industries, Ship Builders, Paper Industries, Pumps, Automation, Paints, Steel Industries, etc.